Yason is the proud owner of five retail stores located in the city of Novi Sad.
All of our shops are fully equipped with up-to date machines and professional tools of the latest generation.
We offer a wide range of contact and prescription lenses, along with sunglasses and optical eyewear created by world class designers.
Hadži Ruvimova 63-65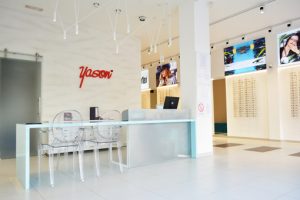 Tel: 021/651-9130
Business hours: From Monday to Friday 9-20h, Saturday 9-14h
Optometrist exam business hours: Monday, Tuesday, Wednesday 17-20h, Wednesday, Thursday, Friday 9-13h, every other Saturday 9-14h